Label Fan Folder
Occasionally BPE will take a special request
for a non-automotive related project.
Here's one we did for one of our
neighbors - Label Specialties, Inc.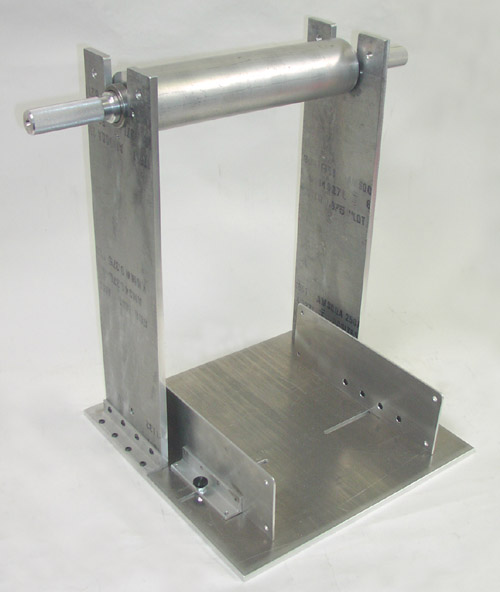 One of three BPE fabricated Label Fan Folders built
for Label Specialties, Inc. Device is used for folding
bulk quantities of labels prior to shipment.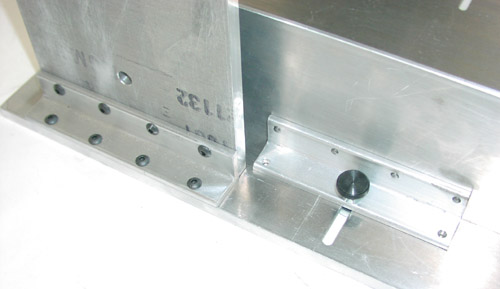 Close up of base showing roller stand mounting. Roller stands
are mounted with countersunk screws from underneath base
and reinforced with L-brackets on top. Also shown is optional
use adjustable guide. Guide has thumb screw in T-slot and nut
on bottom of base which allows for adjustment for width of labels.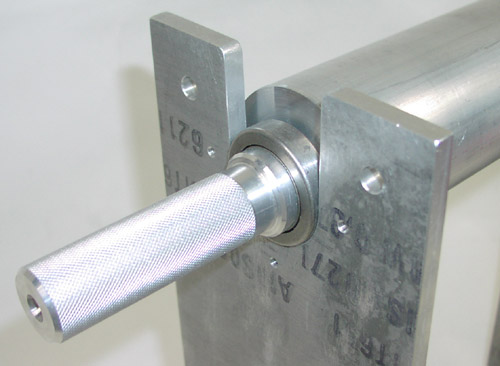 Close up detail of knurled roller handle, bearing mounting
and top of roller stand support. Handles were turned and
knurled from cylindrical solid stock. All stand supports
were ganged together for machining. A 2o included angle
was incorporated in bearing slot to allow ease of roller
installation when a large heavy roll of labels is mounted.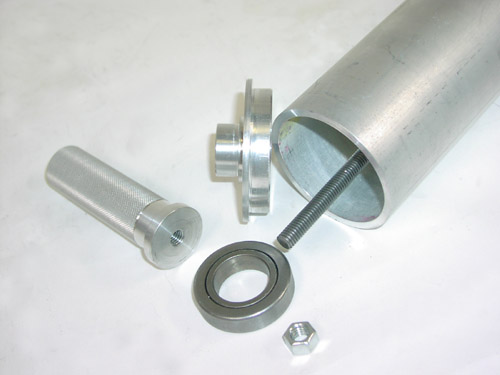 Close up detail of roller parts. 3" diameter aluminum
tubing was cut and faced to length. All-Thread cut to length
goes through fabricated end cap, jam nut, bearing and
knurled handle. A slight taper was incorporated on the end
cap O.D. to help facilitate sliding roller through label roll tubes.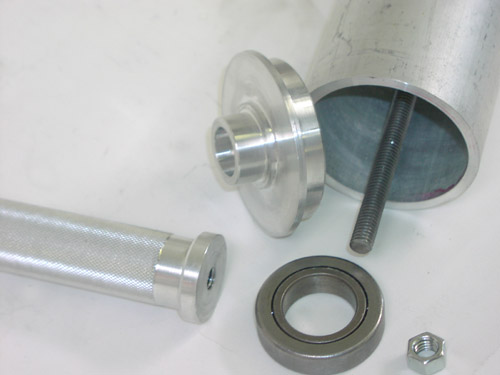 Further detail shows recess in end cap for jam nut.
The bearing slip fits on the diameter surrounding the
jam nut. Flange on handle locks bearing by inner race.
Handle unscrews from assembly to facilitate replacing bearing.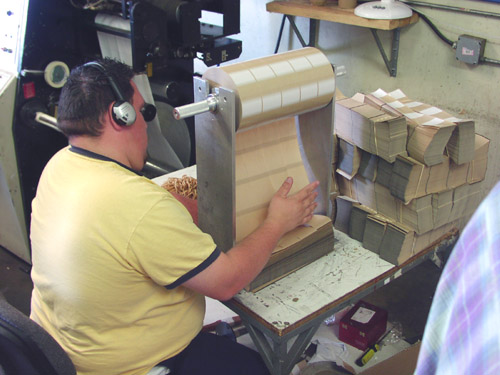 Label fan folder in use. A total of three were built for the
customer in order to fold approximately 7 million labels.